At the beginning: a troupe and a show
Galapiat Cirque Company was created in 2006 at the French National Centre of Circus Arts (Centre National des Arts du Cirque-CNAC) in Châlons-en-Champagne. The organisation originates from the meeting of4, 5 and then 6 circus artists: Sébastien Armengol, Jonas Séradin, Lucho Smit, Sébastien Wojdan, Moïse Bernier and Elice Abonce Muhonen.
South America as a starting point, an objective.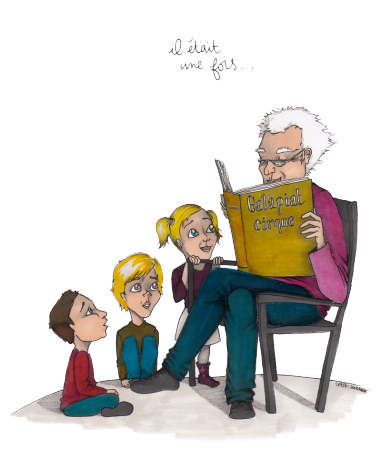 The company is operational as from October 2007 and an administrative team soon follows the troupe on the road: Lucile Mulliez and Marine Freslon.
9 months of creation and in-residencies between Metz, Chambéry, Montpellier, Langueux, Marseille, Bourg-Saint-Andéol... to create a collective production without a director. 25 days and nights of work with Gilles Cailleau, who as a sort of midwife brings the project to life.
Risque ZérO premieres on 19 September 2008, a new step for the show and the company.
Brittany, France, a home port...
Meanwhile, the company and the organisation become a more coherent structure and propose a singular event called Tant qu'il y aura des Mouettes(As long as there will be seagulls) in Langueux (Brittany) in 2008.
Strong ties bind the company with the Côtes d'Armor (regional), the city of Langueux and the venues that host us when we are not touring: le Grand Pré as well as le Domaine de la Roche Jagu. This is where we try out new educational programmes, where we set up in situ events and artistic productions.
In 2008, one of the artists' families buys a Big Top named Petaouchnok. Risque ZérO tours with it at the beginning but it soon becomes too small for the show. Galapiat Company invests in a bigger Big Top, the Yellow Big Top in 2009.
The organisation flourishes with the addition of more people, artists as well as volunteers. It is very much alive, creative and buzzing.
The Petaouchnok project is launched in 2009 with the purchase of a Big Top mobilizing friends, circus artists and musicians who set up local artistic and sociocultural experiences in Brittany. Strong ties start with places like Relecq-Kerhuon, Lorient, the local council community of Châteaugiron, and local high schools (Pomerit Jaudy and St Ilan in Langueux).
In 2010, Galapiat Cirque organises a 6 month bike tour from Poitiers to Brittany for Rémi Luchez and his show Miettes.
An appealing concept bringing about other bike tours, Toi d'abord Company and the show Tu Viens in 2013, Federico Robledo and Philippe Ribeiro in 2014 and the show De la Pra Ca, Cirque Inachevé and the show Piste and Love in 2015.
Risque ZérO in South America, the founding dream
In 2011, Galapiat Company finally makes its federative and founding dream come true: travel to South America and mingle with the circus network.
A trip to Argentina and Chile, 3 months, 13 people, to discover social circus companies, circus in the big cities and in the mountains. There we develop strong bonds and the company in its turn welcomes Argentinians and Chileans to France, gets involved in the creation of a travelling school of social circus, organises tours for circus artists and musicians we met there.
Still today, we keep strong connections with South America.
A shift
In 2011, backed by an organism called l'Escargot Migrateur, the organisation benefits from a development support programme leading to its structuring and organising collective decision-making.
This results in the setting up of "seminars", where the artists, technicians, back office and volunteering friends get together every three months; of coordination meetings per domain (production and touring management; technical management; artistic management) and weekly meetings.
After over 250 performances, Risque ZérO's last show takes place in October 2014 in Amsterdam.
Meanwhile, the "founding artists" have created new productions which are supported by Galapiat Cirque: Mad in Finland is created in 2012 at the festival Tant qu'il y aura des Mouettes; the shows Marathon and Capilotractées are created in 2013; BOI in 2014; Château Descartes, la F.R.A.P. and Parasites in 2015; the show C'est quand qu'on va où !? is on its way.
Galapiat Cirque keeps a strong local anchorage in Brittany by setting up original projects: cycling tours, the 9 km² bike tour project, but also long term residencies first with the Petaouchnok project (from 2009 to 2014) then with the Wagabond project, and organising federative events such as Ville Debout (2012), Tant qu'il y aura des Mouettes festival (since 2008) and Cirque et Mer ("edition zero" in 2015).
As a result, Galapiat Cirque has developed strong ties with many different partners: city councils, local council communities, schools, hospitals, artistic companies and other organisations.
In France as well as abroad, Galapiat Cirque is renowned for the high level of its productions and its original cooperative approach.
Becoming a cooperative
In December 2015, after 5 years of passionate debate, the organisation becomes a General interest co-operative (SCIC).
The reason for this transformation is to reconcile the cooperative management of the organisation with its legal status in order to release the volunteers ofthe legal responsibility, transfer the statutory liability to the workers and take account of the change into an entertainment company.
A SCIC is a company that belongs to the workers. There must be at least three categories of members so that they entertain different kinds of relationship with the structure.
There are six different categories of members at Galapiat Cirque: artists, back office, technicians, friends, local authorities and partners.
New challenges, new experiences on the horizon!!