a show Galapiat Cirque / Sébastien Wojdan - création janvier 2013
circus solo - 1:15 hour - from 6 years +
Marathon is a circus solo, a challenge that consists in performing alone in the ring. Running as a metaphor nurtures a need for solitude through extreme physical activity and repetitive action. The tenacity of a man to overcome an exhausted body pushed to its utmost limits.
Body temperature rises, the heart beat accelerates, hands start shaking. Panting for breath, fear and distress become manifest.
By dwelling on our childish heroic enthusiasms, Marathon puts to the test the mutation of our dreams.
With the rage of a boxer and the stamina of a long-distance runner, Sébastien Wojdan embarks the spectator on the razor's edge, in a show of drawn daggers. Marathon, the aptly named, superb universe of punk poetry distilled in a Circus ambiance.
Hervé Queille - Télégramme - 2 april 2013
about Sébastien Wojdan
Juggler, knife thrower and musician, Sébastien trained at the School of Circus Arts Balthazar in Montpellier, then at the French National School of Circus Arts (Ecole Nationale des Arts du Cirque) in Rosny-Sous-Bois and at the National Center of Circus Arts (Centre National des Arts du Cirque-CNAC) in Châlons-en-Champagne (18th class).
He also trained in contemporary, classical and jazz dance at EPSEDANSE in-Montpellier. Upon graduation, together with five other artists he formed the troupe Galapiat Circus and created the show Risque ZérO. Sébastien also takes part in several musical projects among which Ralush' Baluch.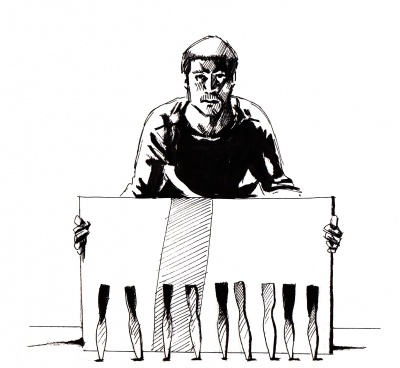 © Gwenaël Manac'h
Writer and Performer: Sébastien Wojdan
Stage direction: Sébastien Wojdan / Gilles Cailleau
Outside view: Guillaume Sauzay (Gus) / Elice Abonce Muhonen
Lighting design: Pierrot Usureau
Scenography: Sébastien Wojdan
Construction: Sébastien Wojdan, Benjamin Bottinelli Hahn and Luc Mainaud
Choreographic view: Nanda Suc
Head of light and props: Pierrot Usureau or Loïc Chauloux or Pauline Aussibal
Head of sound and props: Mikaël Remigereau or Franck Beaumard
Production and tour manager: Nolwenn Manac'h and Louise-­Michèle You - L'Avant Courrier
Office manager: Lucile Mulliez and Emmanuelle Nonet
With musics by Sébastien Wojdan, Tsirihaka Harrivel, Ibrahim Maalouf, Jacques Brel
Production : Association Galapiat Cirque
Co-productions : Le Grand Pré, Scène de Territoire (22), Centre National des Arts de la Rue, Le Fourneau(29).
Supports / residencies : Carré Magique Lannion Trégor, Pôle national des arts du cirque en Bretagne (22) Espace Périphérique, Ville de Paris - Parc de la Villette (75), TRIO…S, scène de territoire pour les arts de la piste – Hennebont / Inzinzac Lochrist (56), Cirk Eole(57), Balthazar Centre des Arts du Cirque (34), Le P'tit Cirk (22), Cirque Melem (31), Compagnie Mesdemoiselles (49), le Théâtre de la Folle Pensée (22).
CONTACT : Nolwenn Manac'h / (+33)6 76 78 01 19 / (+33)2 40 36 98 57 nolwenn@avantcourrier.fr