Implantations au Relecq Kerhuon
**Chapiteau d'Hiver (Winter Big Top) – A collaboration between Galapiat Cirque and the city council of Le Relecq Kerhuon (Brittany) - from 2010 to 2015

Cabaret Kerhorre © Sébastien Armengol
"Chapiteau d'Hiver" is a project initiated by the city council of Le Relecq Kerhuon.
A desire to set up a big top with a sea view during one whole month to present circus and music performances along with other activities.
They trusted us and gave us like a Carte blanche to set up an event, several evenings, week-ends in partnership with the department of cultural affairs of Le Relecq Kerhuon.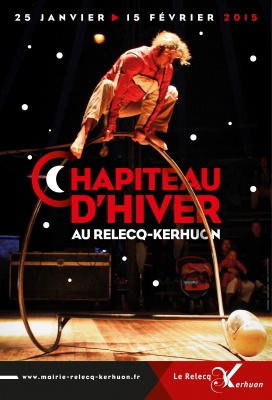 affiche Chapiteau d'Hiver 2015
The programme consisted in circus performances (of course!) but also dance, theatre, puppetry, art and craftmarkets…
The opportunity to set up a big top in a place "where Circus does not often go", a set period of time every winter, that was one hell of a gift that allowed us to test productions in development and of course get together with our friends and meet some new…
It all started with Risque Zéro in 2010. In 2011 and 2012, the Pétaouchnok collective took over and created a customised performance in the form of a cabaret.
In 2013, , the members of the production Sur le Chemin de la Route and our friends from la Grosse B in their turn put their new productions to the test.
In 2014 a cabaret performance was set up for the occasion (Cabaret Kerhorre) and several performances were presented such as Cow Love, BOI, a tight rope walking act by Pierre Déaux, Et puis le ciel sans conséquences… , concerts by Pavan Takin, and Eléctric Bazar… ). That year, a storm invited itself and the water reached the big top!
And in 2015, Chapiteau d'Hiver moved to a "less submersible" area. A new cabaret performance was presented for the occasion (Au pire ça se passe mal) along with other shows such as Ensemble, les Polyamides Sisters,, les Girafes Song, Cayu frappe à la porte du Paradis, etc.
The collaboration came to an end in 2015 at a time when we were all very busy with our new productions (BOI, Marathon, Capilotractées, Château Descartes, Mad in Finland…). 2015 was also the year the Pétaouchnok collective stopped.
This gave us less time and availability to set up a proper project with the city council of Le Relecq Kerhuon (however the operation Chapiteaux d'Hiver goes on every year).