(circus meets the ocean)
An invitation to the Circus to plunge into the maritime world...
The genesis of the project is the encounter between the founding members of Galapiat Cirque and Yves-Marie Leguen, oyster farmer in Plougrescant (Brittany).
Their meeting was the starting point for many initiatives connecting the circus and the maritime environments: a sauna caravan on a barge, acrobatics in the water, on the quay…
Since its creation, Galapiat Cirque has set up numerous projects involving the setting up of the big tops on the oceanfront: Relecq Kerhuon, Copenhague, Marseille, Binic, la Seyne sur Mer... the technical staff as well as the artists are familiar with this specific environment and are particularly fond of it.
In 2013, seven artists, among which Yves-Marie, accepted the invitation of the Festival International du Film Insulaire de Groix (International Island Film Festival of Groix) and explored different ways of connecting circus and the island environment, no big top this time, just using the beauty of the Groix Island and especially Port Lay as a setting. In 2014, 10 artists repeated the experience (leading to the creation of the F.R.A.P. project).
The prospect of a festival in Plougrescant will strengthen an already existing link between the circus and the maritime environment, turning the coastline into an unusual playground for circus scenes.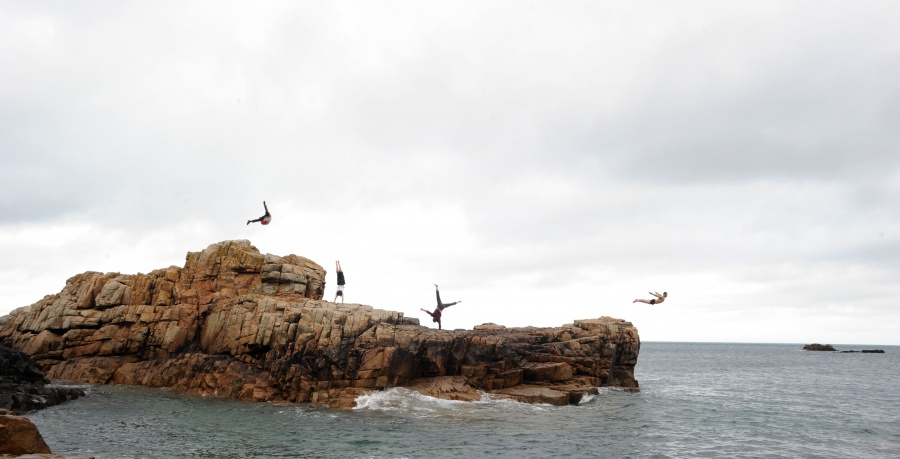 © Sébastien Armengol