A new production created specially for the festival Avis de Temps Fort!
At the invitation of the city of Port-Louis, Moïse Bernier, Chloé Derrouaz and Lucho Smit embark the local population in their new production "La première fois" ("the first time").
It is not always that easy to receive a first time, it is often a bit scary, immersing ourselves in some feverish, delightful and childish spheres to the point of abandonment sometimes… What if we did not give up for once and stretched the limits… What if all of us went on stage together for once, thrusting out in the air with a teeterboard, what if we confronted with the verticality of a Chinese pole and what if for once we spoke about first times with all one's heart or with our entire body…
Join the team for a presentation of their work after a 10 day period of research - Thursday, May 25th, 4.30pm in front of La Grande Poudrière during the Festival Avis de Temps Fort.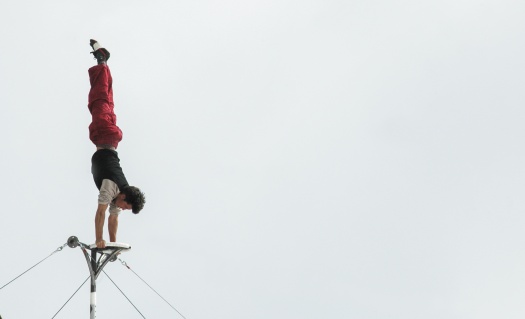 Photo : Sébastien Armengol