"Galapiat SCIC" (General interest co-operative)
We've made it! Our organisation Galapiat Cirque association has become SCIC Galapiat Cirque, a General interest co-operative, on December 1st, 2015.
A SCIC stands for Société Coopérative d'Intérêt Collectif (General interest co-operative). That means the company belongs to the workers. There must be at least three categories of members so that they don't entertain the same relationship with the structure.
There are six different categories of members at Galapiat Cirque: artists, back office, technicians, friends, and partners and communities.
The reason why we have decided to transform our organisation into a SCIC (after 5 years of passionate thinking and talking with the valuable help of Jérôme Carpinelli of the URSCOP...) is that we no longer want the volunteers to be held responsible for the structure, the statutory liability has been transferred to the workers; we wish to reconcile our cooperative functioning with our legal status and accept the fact that we are a cultural company.
If you wish to learn more, you can watch a video here that explains what is a SCOP and a SCIC, you can also visit the website of the SCOP federation URSCOP.
New challenges, new experiences on the horizon!!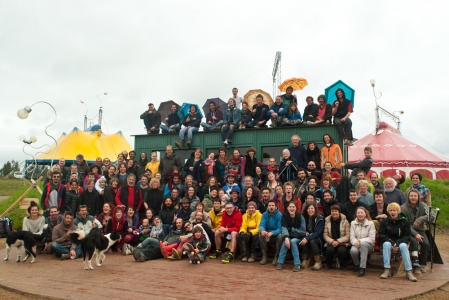 © Sébastien Armengol