Cirque & Mer : "Le Grand Soir"
Friday 2 September 2016, Beg Ar Vilin, Plougrescant (22)
le Grand Soir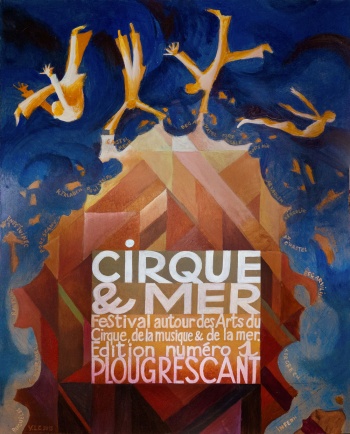 © Yvon Le Corre
Vendredi 2 septembre – Beg Ar Vilin
Cirque, musique, pyrotechnie et cinéma. What else ? Le site magique de la pointe de Beg Ar Vilin et un fort coefficient de chaleur humaine dès 18h.
19h - Création in situ - Galapiat Cirque
Pendant cinq jours de résidence, artistes de cirque et musiciens ont investit l'estran et apprivoisé les flots, accompagnés par des professionnels de la mer. Le résultat : un spectacle unique, créé spécialement pour Cirque & Mer, où la Manche se fait scène mouvante et la plage gradin naturel.
21h - Extrême night fever - Cirque Inextremiste / Pyrotechnie - Pascal Ducos
Retour sur la terre ferme pour une fête jubilatoire, à voir, à ouïr, à danser et surtout à vivre. Concert circassien, cirque déconcertant ?
Ce n'est pas une soirée où tout peut arriver, mais où tout arrive... Un bal spectaculaire orchestré par le Cirque Inextremiste connu pour son amour du risque, rejoint pour l'occasion par l'artificier Pascal Ducos, dont l'art pyrotechnique est nourri d'un vrai sens du rythme et de la respiration.
23h - Back to the fjords - The Flying Frenchies (film documentaire de Sébastien Montaz-Rosset)
Acrobaties, chutes libres et sauts, ces voltigeurs clowns et acrobates mettent les lois de l'apesanteur à rude épreuve avec comme simple décor la nature. Vertige sur grand écran garanti !
Bar et restauration sur place - Spectacles et projections accessibles à prix libre