"Tant qu'il y aura des Mouettes" festival Zéro Risque (Cabaret Pétaouchnok)
Saturday 30 April 2016, le Grand Pré theater - Langueux (22)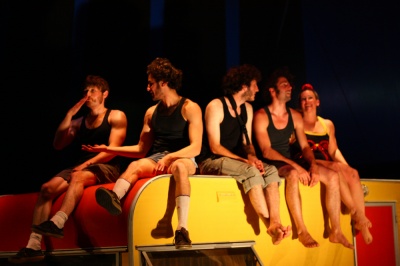 © Sébastien Armengol
Welcome to Péta's big top for an explosive cocktail of circus prowess!
For almost six years, our most valiant artists have braved the roads and the wind and made the Pétaouchnok project a reality. And now each one has gone off, in pursuit of new projects.
They will come together for this year's festival and create a special event in the form of a cabaret to celebrate Galapiat's 10th anniversary and relive this wonderful artistic and human experience with the spectators.
A combination of circus and music, a typical Galapiat speciality!
satuerday 30 april - 5:00pm