"Tant qu'il y aura des Mouettes" festival Marathon XL
Monday 25 April 2016, Hippodrome de la Baie, rue de Saint-Laurent à Yffiniac (22)
MARATHON XL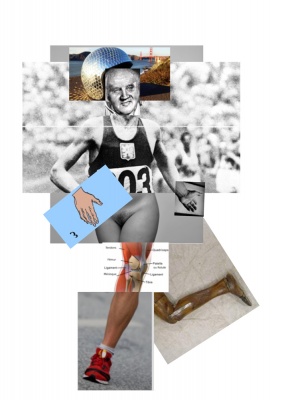 January 18th, 2013: Imagine the Saint Brieuc Baycovered in a mantleof pristinesnow… The show Marathon is about to beperformed for the first time at Le Grand Pré theatre.
Marathon is a circus solo, a challenge thatconsists in performingalone in the ring. Running as a metaphornurtures a need for solitude through extreme physical activity and repetitive action. The tenacity of a man to overcome an exhausted body pushed to its utmost limits.
This circus solo emanates from a desire to compile a 15-year pratice of circus arts, in the form of a series of exploits, a confrontation with short comings in permanent experimentation and exposed to the compliant gaze of the spectators. Relentlessly, on the razor'sedge, body temperature rises, the heart beats accelerate, hands start shaking.
Panting for breath, fear and distress become manifest. Dwelling on our childish heroic enthusiasms,over coming difficulties, the show is about the complexity of becoming an adult.
To celebrate the 10th anniversary of Galapiat Cirque, the entire Marathon team invite you to a Marathon XL, which includes a savourydinner of Polish specialities, followed by the performance and a concert. This unique event will take place in the hall of the "Hippodrome de la Baie" in Yffiniac where the sawdust has been trodden upon by a multitude of horses.
monday 25 april - 7:00pm