(from "wagon vagabond" : the travelling wagon)
A wagon that wants to get off the track, village parades and circus bowling along, our latest project called le Wagon Vagabond, is multifaceted.
From cities to villages...
The association des Chemins de Fer des Côtes du Nord (Northern coast railway organisation) lends us a wagon, we remove it from the track and we come to your place!
The idea behind the wagon is to create a buzz and set up parades, shows, workshops and make people meet each other…
Wagabond, the show :
Chinese pole, cloud swing, Chinese hoops, live music – Family show - 50 min
The show Wagabond recounts the encounter with several protagonists who have won a round-the- world trip.
The spectators embark on an adventurous journey punctuated with acrobatic surprises! Anything can happen during the trip: an Indian attack, an encounter with a fakir…
Authors and performers:
Brendan Corre, technician
Stéphane Dassieu, musician
Pablo Escobar, Chinese hoops
Louison Lelarge, Chinese hoops
Max Moralès, Chinese hoops in remplacement of Louison
Pauline Schoenhals, Chinese pole
Céline Valette, cloud swing
Maho Le Gac, scenography and props
de et avec :
Stéphane Dassieu, musician
Pablo Escobar, chinese hoops
Louison Lelarge, chinese hoops
Brendan Corre, technician
Pauline Schoenhals, chinese pool
Céline Valette, cloud swing
Maho Le Gac, scenographer and accessories
A book to tell the story…
Léon is born as a wagon. A son of parents that are meant to follow the tracks and the times of departure, leaving no space for his dreams, doubts and passions. A grandson of those that have been put on a sidetrack… A brother of Unpunctual who, for lack of rigour, goes round and round in circles all day long.
Léon aspires to something else than a life preordained.
The story of this little wagon is a cry of joy and freedom for the children (and not only they…) to dream and dare to think differently and change our world over and over again...
By telling us about his family and encounters, Léon shows us we can't do anything alone, but it is not necessary to hide because of others either!
Writings by Emilie Bonnafous and drawings by Lucce*.
A "Gare des Rêves" (a dream station) for all of us to imagine together...
So that we can all dream, imagine and build up around the wagon, we have invented a Gare des Rêves (Dream Station), a place where anyone can participate!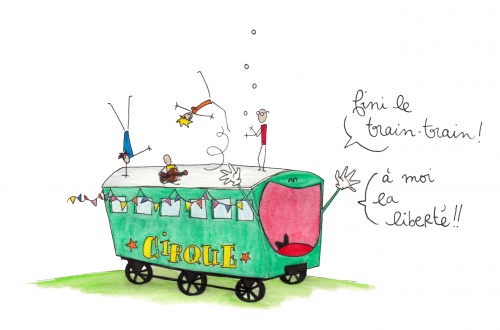 © Lucce*