To perform in a Big Top is like inviting people to your home. A curiosity in the landscape, it induces unexpectedness in daily routine and prompts dreams, travel and a sensation of freedom and autonomy.
Our Big Tops allow us to take our time, time to perform, time to meet people. It is also a unique way of life with the camp base and our caravans.
But most of all, the Big Top allows us to go everywhere, where the Arts are not often to be seen, where there are no theatres. It is a place accessible to anyone and where various generations and people mix together.
This is why the Big Top is the best medium for the creation and diffusion of the Performing Arts.
Galapiat Cirque owns 2 fully equipped Big Tops (tribunes, sound, light, floor, heating, trucks…). They receive the Galapiat Cirque shows but also other projects.
Yellow Big Top
Yellow and blue.
20x24 m, 2 towers of 12m, 4 small towers of 9 m.
Seating capacity : 370
Circus ring : (wooden) floor of diameter 12m.
360° circular tribune
Surface area requirements : 40x30 m + 4m around half of Big Top for security perimeter.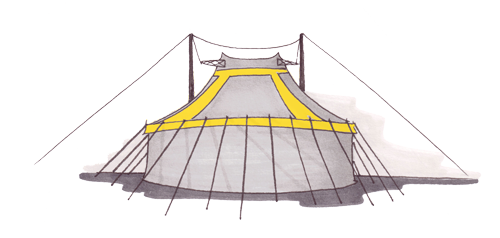 Pétaouchnok Big Top
Grey and yellow.
18x18m, 2 towers, 8 m dome, no small towers.
Seating capacity : 300
Circus ring : (wooden) floor of diameter 10 m
Surface area requirements : 32x23 m + security perimeter = 40*30 m minimum.
If you wish to use our "traveling venues", do not hesitate to contact us +33 (0)6 10 58 02 34 or galapiat@gmail.com